A fine piece of furniture can last hundreds of years, so it pays to invest in preserving its history, functionality and value
The restoration and reupholstery of furniture not only adds longevity but the process creates something that can be loved and appreciated on a daily basis. Auctions are a wonderful way to find fabulous examples of upholstered furniture, and sometimes restoration and reupholstery are necessary investments in the continued endurance of your beloved pieces.
English furniture of the 18th and 19th centuries was made using woods such as walnut and mahogany, and first-growth secondary woods such as oak, which tends to be very strong and durable. A 19th-century settee, a Howard & Sons club chair and ottoman, as well as a pair of slipper chairs, all serve as examples of what can be achieved with a little investment and imagination with your antiques.
Authentic stuffing, from horsehair to hay
Antique furniture was traditionally padded with several different types of organic materials, which varied in price and quality. Horsehair, for example — used in antique upholstery up until the 19th century — is a mark of quality because it is strong, durable, and much more expensive than the alternatives. If a piece of antique furniture contains horsehair stuffing it is important to maintain its integrity, since it ultimately adds to the character and value of the piece.
A 19th-century settee — eaten by the late Ms. Lyall's dog on a Sunday afternoon — was noticeably filled with a combination of horsehair, hay and cotton. Although externally damaged, the underlying quality of the settee made the piece eminently worth restoring.
Eleana, owner of Sidotti Décor, and her assistant Ruby (both pictured above) restored the settee by first taking it apart. 'I like to peel off the layers of history on a piece of furniture,' says Eleana.
Once all of the worn upholstery had been removed, Eleana was able to assess the condition and quality of the structure and stuffing. She then determined how to rebuild the damaged areas of the settee, maintaining the original combination of stuffing in order to stay true to the furniture's history. With the proper investment in restoration, this settee quite easily has another 200 years of life.
Chintz — a 19th-century classic
If you want to bring new life to an old piece, the fabric used to re-cover your antique furniture is key. When recovering a 19th-century Howard & Sons club chair and ottoman (below), we used a classic English chintz from Mrs. Lyall's collection.
Chintz was originally imported from India in the 18th century, where it was produced as a simple printed cotton. Calendering — pressing the fabric through rollers — made the cloth crisp and shiny, and also more durable. During the 19th century, upholstery advanced as chemically-dyed printed cotton was developed. These new chemical processes allowed for the advancement of European chintz — glaze-finished printed cotton with colourful patterns and a typically light background.
The Howard & Sons club chair and ottoman were reupholstered in a classic English chintz in order to reference the history of the chair. Howard & Sons was founded by John Howard in 1820, and exhibited at the 1851 Great Exhibition. It was one of the most successful and well-known Victorian cabinet-making firms, based in central London, and is today most famous for its comfortable and elegant easy armchairs, such as this example.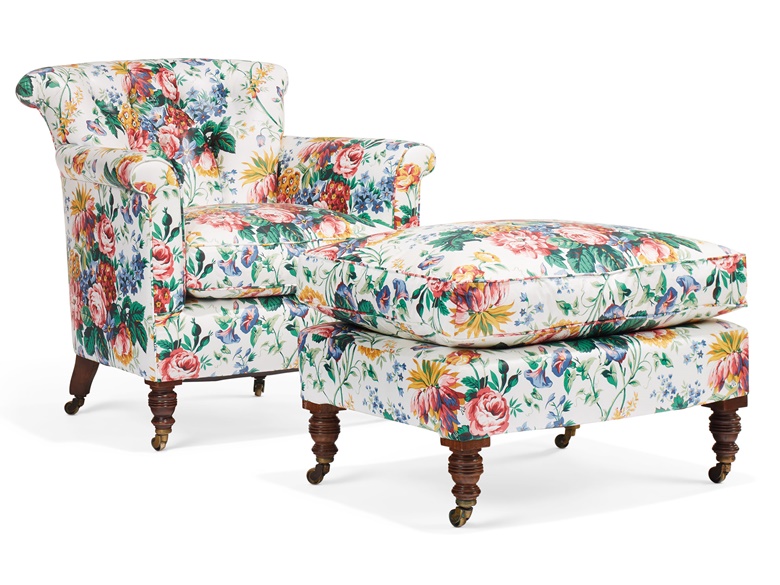 As one would expect of an extremely well-regarded 19th-century furniture firm, the club chair's frame was of exceptional quality and required no restoration. It was felt that such a remarkable example of English antique furniture would look best with a classic fabric, and the pieces were duly reupholstered in English chintz.
Modern fabric can add new personality
That said, the application of modern upholstery on antique pieces can also add new personality.
The restored 19th-century settee was reupholstered in a modern small-batch-printed Bennison fabric. Bennison Fabrics, based in London and New York, specialises in hand-printed textiles and wallpaper designs, and we used the China Birds pattern to cover the settee. The fabric, which was also part of Ms. Lyall's collection, is further livened up with the addition of red piping along the settee's edges, and a simple skirt.
Slipcovers — for changing seasons or taste
Even if your upholstered furniture is in good shape, slipcovers can add versatility or be switched out for changing seasons or taste. We decided to have slipcovers made for a pair of slipper chairs in order to add versatility to the otherwise well-maintained upholstery.
Some of the most famous interior decorators, such as Mrs. Henry Parish, were known for having three sets of slipcovers made for their clients' upholstered furniture.  Traditionally, chintz fabric adorned the furniture in the cold winter months, and was replaced by a simple linen or cotton cover for the summer. A solid cover was then brought out for the autumn.
The use of slipcovers allows one to launder the fabric, thus extending the life of the underlying upholstery. In the 1930s Mrs. Parish famously had slipcovers made out of French mattress ticking for her own house, in order for them to be laundered without the worry of damage being caused by dogs or children.
Re-covering for versatility
A school of thought is that the slipcover should never be too tight, and should have a certain amount of 'give' for a classic English feel. A playful corset on the backs of the chairs add a touch of modernity to the otherwise traditional covers.
Needing some updates for your sofa? We specialise in reupholstery for precious sofa and armchair.
If you are in Singapore and is in need of an update for your couch, then contact us. The usual cost for reupholster/upholstery will start from SGD $800 and above for a 2 seater or an armchair. If you custom made a sofa in Singapore, the price starts from $2300 onwards.
Whatapps (+65 90305057 , Vince ) you can speak directly to us or email: info(at)centrepiece.com.sg to discuss your order. We don't have call centres or customer service departments, you speak directly to the people making your sofa.
Restoring beauty and beyond – Reupholstery SG
Shop @: Centrepiece Lazada 
Find sales/clear stock @ : Carousell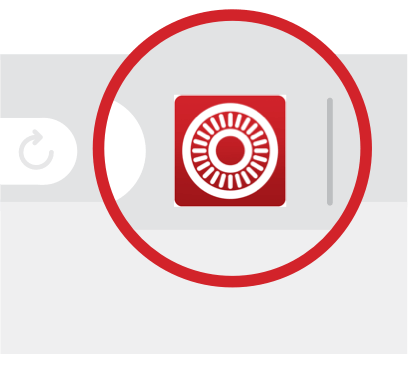 Stay Connected