Outdoor cushions are a wonderful way to add style and colour to your patio and backyard, but are outdoor cushions waterproof?
First and foremost, the water resistance level of your cushions depends on the fabric they are made of. Small and primarily decorative outdoor cushions are most commonly made of polypropeline or polyethane. Although these fabrics are not waterproof, they are water resistant. This means that the cushions are able to resist the penetration of water to a certain degree, but not completely.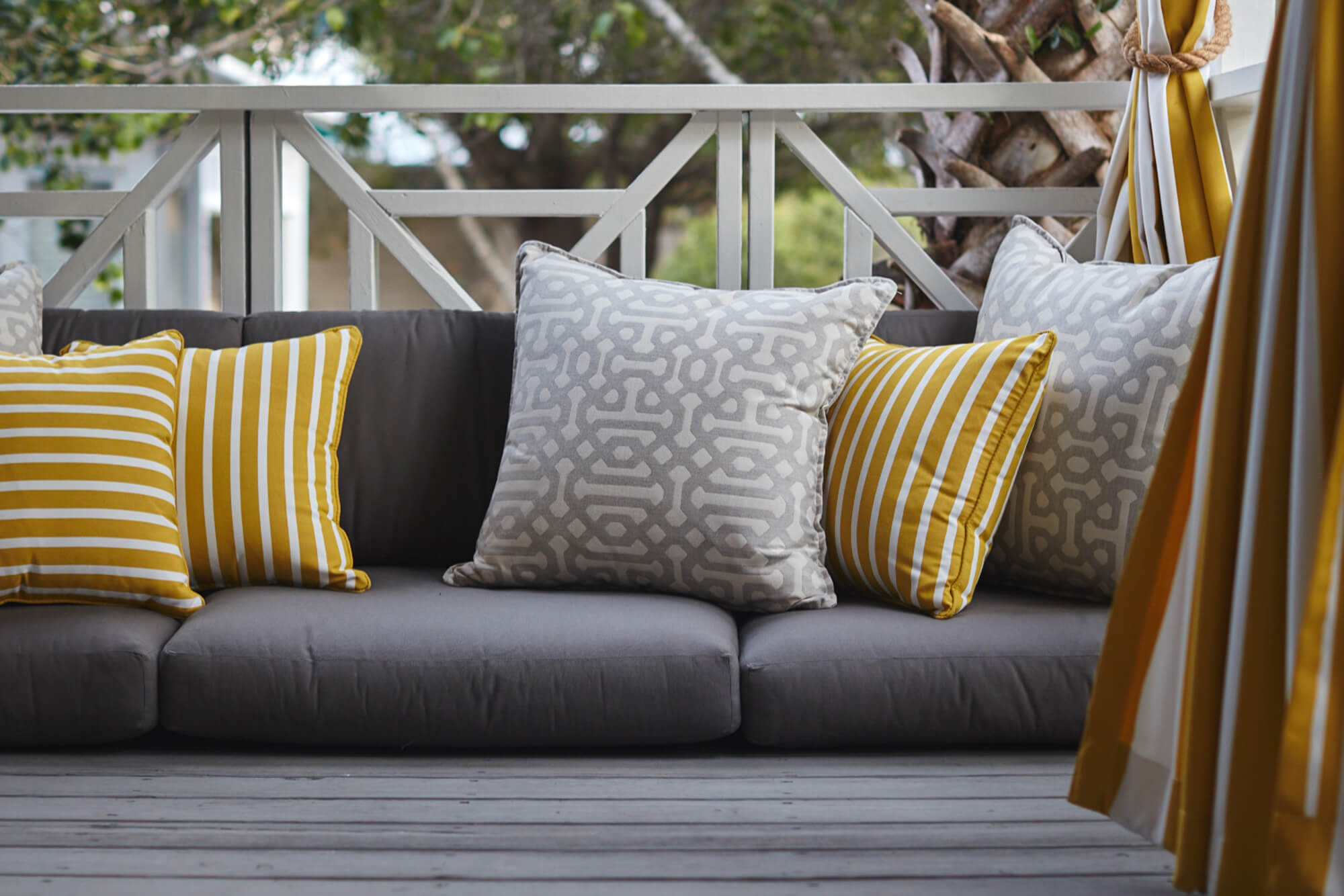 Many outdoor cushions contain a foam that is specifically produced for water to pass through, ensuring the cushion doesn't become waterlogged. This makes them significantly more resistant to water than memory foam and other foams that are commonly used for indoor furnishings.
Sunbrella fabrics are commonly used for outdoor seat cushions and outdoor bench covers, due to their high level of tolerance to UV rays. Sunbrella canvas upholstery consists of a metallic sheen alloy that allows water and UV light to pass through the fibres. Although this certainly does not make the cushions waterproof, it means that they are more likely to keep their quality in a harsh environment.
Outdoor cushions made out of less porous fabrics such as oilcloth are indeed waterproof. Oilcloth consists of a finely weft linen with a coating of boiled linseed oil. Although cushions made from oilcloth are waterproof, their tough and stiff nature makes them more subject to rips than cushions made of a softer fabric. This also makes them far less comfy.
To ensure your cushions stay at the highest possible quality, it is recommended to pre-treat them with waterproofing spray prior to use to increase the level of water resistance. We also recommend storing your cushions undercover when not in use to avoid any spoilage caused by unexpected downpours.
Although the majority of fabrics used to produce outdoor cushions are water resistant, rather than waterproof, they are still far sturdier than indoor cushions. Indoor cushions are made more for comfort than weather resistance and are commonly made of polyester or cotton blends. For this reason, never use indoor cushions outside!
If you need further advice on style and the type of cushions that can meet your outdoor space needs. Contact us at wwww.centrepiece.com.sg or email: info(at)centrepiece.com.sg